Affordable, Courteous Master Plumbers
Serving the Macomb County Area for 35 Years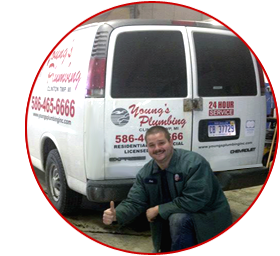 We understand that hiring a contractor can be an intimidating process. For more than 35 years we have been providing plumbing services you can trust to our valued customers in Macomb, Oakland, Wayne & St. Clair County. We pride ourselves on delivering "old time service" while offering the latest technology available.
We build relationships with our customers that have spanned generations. We would rather keep a customer for life with reasonable, honest service – than gouge customers for one big profit  . . . which unfortunately is common practice in our industry.
Our company was built on customer referrals. We feel this is the best advertisement there is. For this reason you will not find Young's Plumbing ads splashed all over your Yellow Page book – we only have the one line ad that comes free with our telephone service. We have kept busy for thirty years without costly advertising because we offer quality work and reasonable rates.
Thank you for taking the time to read about our company and the services we provide. Please keep us in mind for any of your plumbing needs!

Daniel A. Young
Owner/Master Plumber
What to Expect from Young's Plumbing:
Experienced, licensed & insured company who stands behind their work
A company with the resources, tools, material, and labor to handle any size job
Individualized quote for your situation prepared by the person actually doing the work
Price that remains the same as you agreed to before the job begins
Local, established business located near you – our door is always open
A company that generates most of its business on customer referrals
A company that listens to you and services your needs
A company on the approved contractors list of cities in the metro Detroit area
What to Watch Out for in Other Plumbers:
Unlicensed, uninsured fly-by-night company that may not be in business when you need them later
Bait and switch tactics – low estimate that turns into a much larger expense by the end of the project
Companies not equipped to handle large projects – lack of manpower, equipment, tools
Companies with bad reputations – bad work, or pressure tactics selling unnecessary work
Salesmen types providing "one price fits all" pricing
Payment

cash • checks
Address
Young's Plumbing
121 Avery
Clinton Twp, MI 48036